About METROBRICK®
Ironrock®, the manufacturer of METROBRICK®, has been making quality brick products for over five generations. Our reputation is built on top-quality products and customer service.
Over 150 Years in Brick & Tile Making
Since 1866, Ironrock® has manufactured high-quality indoor and outdoor unglazed ceramic tile and architectural thin brick in Canton, Ohio. Ironrock operates a 370,000 sq. ft. facility with over 100 employees. Ironrock uses the best clays and shales in the country, found right in their home state of Ohio.
History of IRONROCK
Jacob J. Renkert founded The Metropolitan Paving Brick Company and began his brick manufacturing career by making fire brick for the iron industry.
In the late 1800s, the country's growing road and highway infrastructure increase the demand for paving brick nationwide. Renkert's innovation and foresight allowed his company to pivot to meet this new demand. Leading the charge, Metropolitan Paving Brick Company became the world's largest manufacturer of paving brick by 1902.
FUN FACT: In 1890, the first Ironrock Street Pavers were produced in Canton, Ohio.
Metropolitan products can be found in some of the most treasured national landmarks and buildings, including the Lincoln Tunnel, Queens Midtown Tunnel, portions of the Lincoln Highway, the McKinley Monument and part of the Indy 500 raceway.
FUN FACT: Ironrock block pavers are displayed in the Smithsonian Institution in Washington, DC.
During the 1970s, customer demand began to increase for quarry tile products under the guidance of J. Steven Renkert. Ironrock saw the need for a durable slip-resistance tile product and started focusing on producing extruded quarry tile. Today Ironrock is well known under the Metropolitan Ceramics® brand as the largest quarry tile manufacturer in the United States.
FUN FACT: Metropolitan Ceramics introduced its ½" thick ceramic tile in the 1970s.
Ironrock has maintained growth and revolutionized the industry for over 150 years, so it was no surprise when they introduced a new product line in 2015 called Royal Thin Brick®. This new product looks to the past by capturing the look of reclaimed brick through a technique that tumbles thin brick after firing to wear down the edges. Royal Thin Brick® can be used on both floors and walls in residential and commercial applications, and it's perfect for those wanting to add historic charm.
FUN FACT: With the introduction of automation and robotics throughout the production process, the company has paid homage to the generations of the family leadership by naming the various robots after key figures: Hal, Steve, Harry, Amy and Jacob.
Ironrock today is under the direction of Guy F. Renkert, son of J. Steven Renkert. He continues Ironrock's legacy of providing quality products through its commitment to forward-thinking while still honoring his family's legacy.
METROBRICK®
METROBRICK is an architectural thin brick for use in precast, tilt-up and field applied thin brick applications. METROBRICK offers the aesthetic of full brick with the benefits of thin brick. METROBRICK can be used for both commercial and residential applications.
METROPOLITAN CERAMICS®
America's Indoor/Outdoor Quarry Tile. Metropolitan Ceramics is the largest manufacturer of unglazed quarry tile in the U.S. Metropolitan is known for producing durable unglazed quarry tile that can stand up to the most demanding treatment indoors and out. metroceramics.com
ROYAL THIN BRICK®
Royal Thin Brick is a tumbled thin brick with distressed and chipped edges creating a worn, well-used feel. Royal Thin Brick combines flashed range colors with uniform single tone colors and blends in a queen size for a wide variety of design options. royalthinbrick.com
---
Corporate History Timeline

1866
Ironrock's founder, Jacob J. Renkert, began in the brick business.

1890
The first "Ironrock Street Pavers" were produced in Canton, Ohio (Stark County), well known for its rich abundance of high-quality clays and shales.

1902
Several local companies, including The Royal Brick Co., merged to form the Metropolitan Paving Brick Company. The company becomes the country's largest source of paving brick.
1949
This year the name was amended to Metropolitan Brick, Inc. to reflect a more diverse product line. Metropolitan products were specified for many well-known installations, including the Lincoln Tunnel and Oueens midtown tunnel in New York City, portions of the Lincoln Highway, and most notably, the Indy 500, aka the "Brickyard." In fact, IRONROCK® block pavers are displayed in the Smithsonian Institution in Washington, D.C.
1975
J. Steven Renkert and his brother, "Hal," introduced the German ceramic "split-tile" extrusion process to the United States. With Metropolitan Ceramics, the company became a leading split-tile manufacturer.
1999
The name was changed to Ironrock Capital Inc. to reflect the continuing diversification of the company
2000
In the early 2000s, Ironrock began producing METROBRICK® Thin Brick. METROBRICK is a thin brick used in precast, tilt-up and field applied thin brick applications. Metropolitan Ceramics®, METROBRICK and Royal Thin Brick® are extruded and tunnel kiln fired and have their roots in full brick manufacturing.

2014
Royal Thin Brick®, a tumbled thin brick product line that features a distinct Queen Size shape, is introduced. This latest edition to the Ironrock family of products brings the much sought-after appearance of distressed brick to the market.
---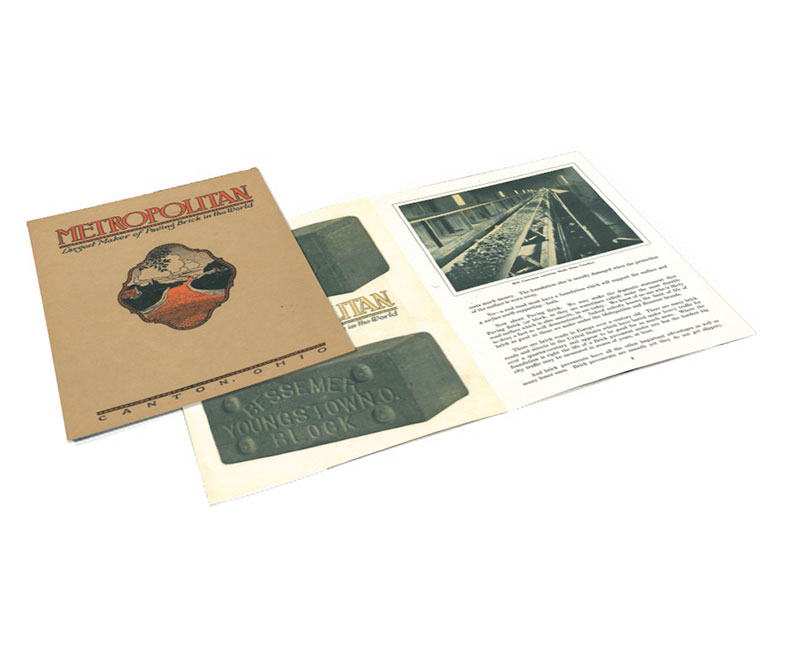 1920
s

Production Book

Take a step back in time with one of our first printed production books. Download a PDF to get a glimpse into our past. View brick manufacturing images and read more about our founding business principles.